Christie Med Announces New Authorized Partner in Al Zahrawi for UAE Distribution of VeinViewer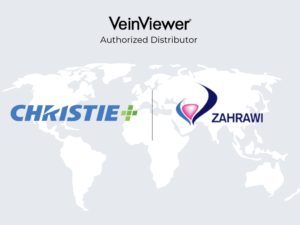 As the leader in vein visualization technology throughout the world, Christie's high-quality, made-in-the-USA, VeinViewer® Vision2 and VeinViewer® Flex, continue to provide customers with improved clinical outcomes such as increasing 1st stick success, decreasing medically not required PICC lines and enhancing patient satisfaction.
We are committed to the continued growth of VeinViewer® as a standard of care and are excited to partner with Al Zahrawi as our authorized distributor for the UAE.
Al Zahrawi Medical is a healthcare focused company specializing in medical, surgical, diagnostic and analytical lab, and nuclear medicine supplies with a presence throughout the region.
Al Zahrawi provides top quality products, services, and support to customers in the medical and laboratory industries that create rewarding customer experiences that build long term loyalty.
To learn more about our partnership, click here.